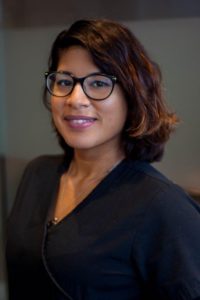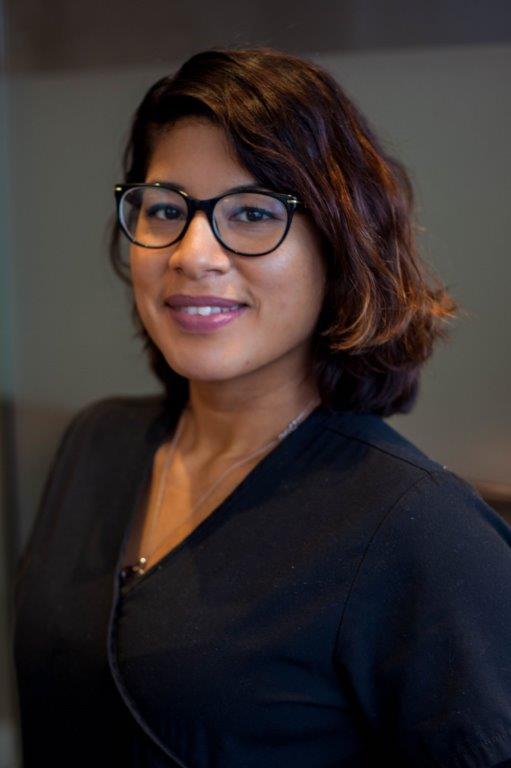 Suzie,
CDA Level ll
Suzie is one of our wonderful dental assistants.  She graduated as a Level ll in 2012.  Being Spanish, Suzie is able to speak to our Spanish-speaking patients, putting them at ease.  She has also taught us all to love Spanish food and salsa dancing and music.  Suzie decided on a career in dentistry because she truly enjoys helping people and she has such a calming way about her that makes everyone comfortable.
Suzie has two sons, Nicholas and Mattias, and along with her boyfriend, Jamie, they love going out for dinner and to movies but when she gets some quiet time, Suzie loves working out and reading.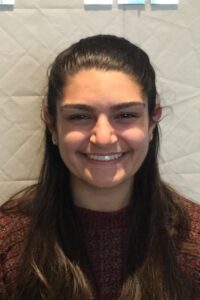 Erica,
RDH
Erica works with us part-time and has been with us for over a year now. She graduated from Dental Hygiene at Cambrian College in Sudbury in 2018. With her thirst for learning, Erica then attended Brock University in St. Catherines and graduated in 2020 with her Bachelor's degree in Community Health.
Erica has a way of making everyone feel comfortable when they see her for their professional dental cleaning and her smile and laughter are contagious.
Erica's hobbies, when not at work, include yoga, puzzles and playing with her mini golden doodle, Bailey.
She's also planning a wedding to fiancé, Josh, in early 2023, and we couldn't be happier for her.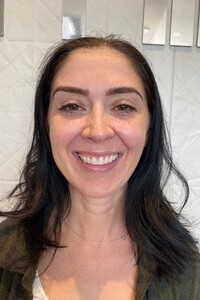 Debbie,
RDH
Debbie joined the Bronte Village Dental Team in March 2023. Her entry into the dental world began as a dental receptionist. She then attended Toronto College of Dental Hygienists and Auxilliaries and graduated as a Registered Dental Hygienist in 2009. Debbie loves developing and honing relationships with her patients and helping them with their oral hygiene needs. She's always giving great tips for home care, as well, and we get wonderful feedback from her patients.
Debbi's many hobbies include travel, salsa dancing, yoga and, especially, spending time with her husband, 3 year old daughter and 19 year old Chihuahua, Chico.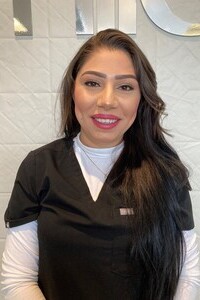 Sedighah,
CDA, Level ll
Sedi, as we've come to fondly know her, started working with us in 2023. Sedi came to Canada in 2011 form Iran and has worked hard to make a better life for her and her family. After graduating as a Medical Office Assistant in 2019, she realized she had a passion for dentistry and returned to Oxford College to become a Certified Dental Assistant, Level ll. Lucky for us as she is a great addition to our team. Sedi embodies positivity, feeling blessed daily with her life and her job. When not at work, Sedi loves cooking and spending time with her husband.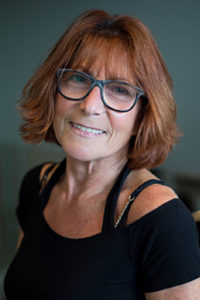 Debbi Kideckel,
Office Manager
Debbi brings with her many years of experience in dentistry.  She started in the clinical area of the dental office, then moved to reception, and on to teaching, facilitating workshops and consulting.  She has joined the Bronte Village Dental team as Office Manager and is here to help our team and patients with any questions regarding treatment, insurance, financial arrangements, etc.  Drop in or call with any concerns or queries!  Debbi originates from Toronto and currently lives in Burlington with her husband, Bill. Whenever possible, they love entertaining friends and traveling.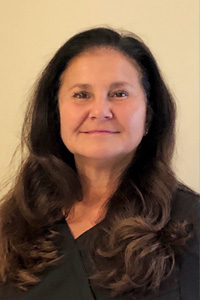 Susan,
Receptionist
Susan is a welcome addition to our team.  You can hear her infectious laugh and see her big smile as you come to the front desk. Susan has over 25 years of experience in the dental field.  She initially graduated as a Certified Dental Assistant, Level ll, helping out with reception when needed, then becoming full-time on reception.  Susan can easily help you with most of your dental questions.
Susan married her high school sweetheart and together they have three kids and 4 grandchildren.  When not working, Susan and her hubby spend their time at their cottage in Bobcaygeon.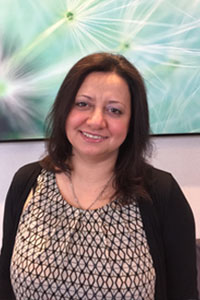 Sherry,
Receptionist
Sherry will greet you with a big smile as you enter the office and is likely to offer you coffee or tea and make sure you're comfortable.  Sherry originally emigrated to Canada in 2012, from Egypt, with her husband and daughter.  Her husband started his own marketing company and Sherry helps him with the business, however, having achieved her Science degree, her interest is in dentistry. She loves learning new things and helping people.  When not at work, Sherry keeps super busy doing volunteer work with her daughter. She loves cooking and spending time with her family and their fur baby, Beauty.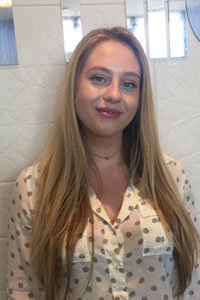 Nicky,
Receptionist
Nicky is one of the newest, and yet longest, members of our reception team.  Nicky is currently in the process of attaining her degree in Public Relations and Global Communications at Ryerson but has decided to take a two-year hiatus, so we took full advantage and put her to work.  She officially joined our team in April 2018 but since she is Dr. Sarafov's daughter, she's actually been attending our office, helping here and there, since she was eight years old. You'll know it's Nicky's welcoming voice when you call because her enthusiasm and energy are quickly apparent.  When not at work, Nicky loves spending time with her long-time boyfriend Michael and her two cats, Sophie and Winston