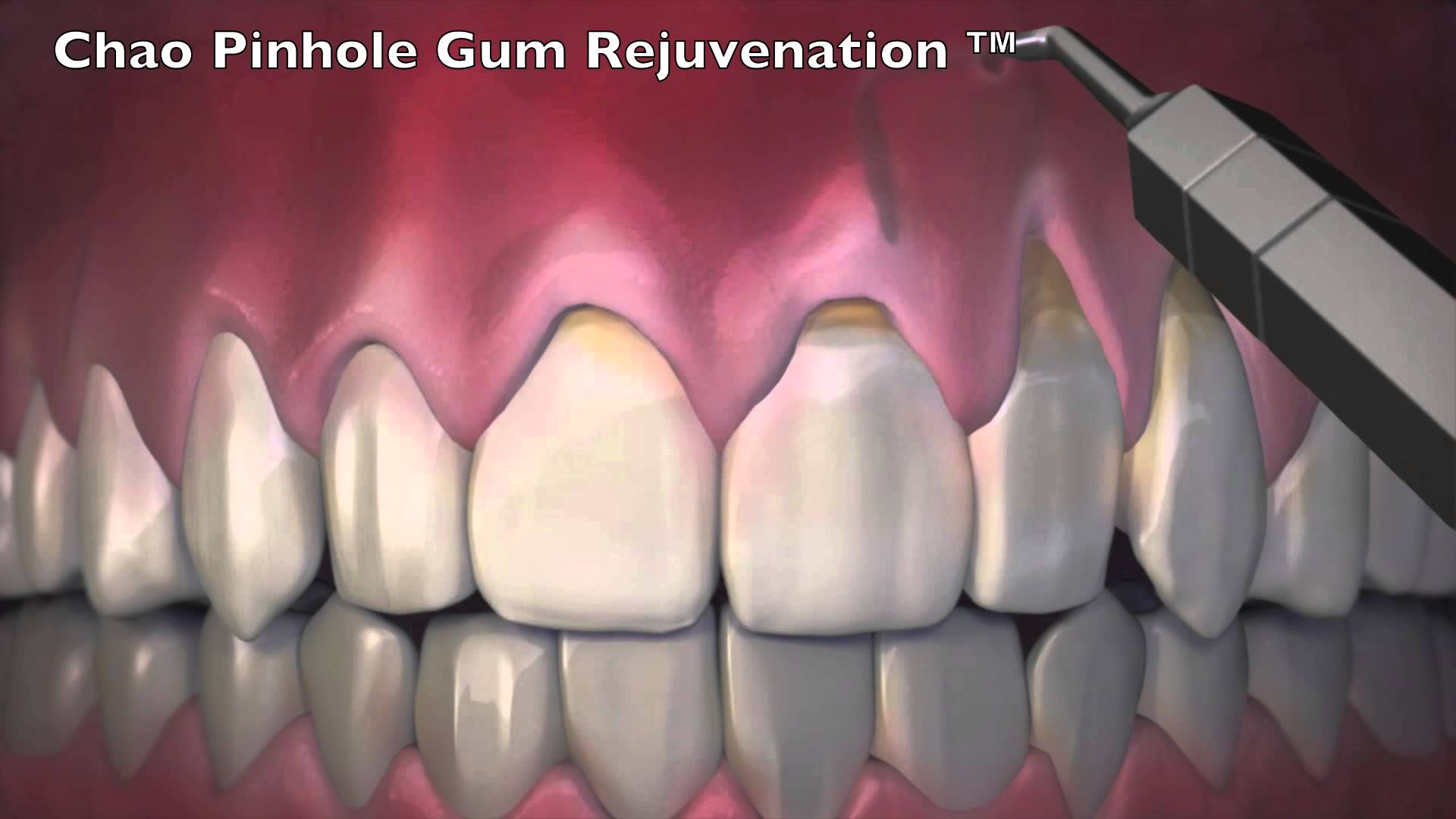 What Is The Chao Pinhole® Surgical Technique?
Unlike gum grafting surgery, the Chao Pinhole® Surgical Technique utilizes the healthy gum tissue that exists at the site of your gum recession. Our in-house periodontist can create a small opening near the tooth that needs treatment, and use a special tool to loosen the connective tissue that holds your gums in place. She can then re-position the tissue until the exposed tooth root is covered. A bit of collagen is placed at the treatment site to maintain the new position of your gum line while the tissue reattaches. This receding gum treatment can be performed in a single session, restoring healthy gum lines to a single tooth or multiple teeth with little to no downtime.
Restore Your Gum Line With Less Downtime & Discomfort
Bronte Village Dental offers the Chao Pinhole Surgical Technique which corrects your receding gums without the discomfort associated with traditional gum surgery.
Gum recession is most often the result of periodontal disease, though there are many other contributing factors, such as aggressive brushing, smoking, grinding, orthodontic treatment, and/or a misaligned bite. In some cases, gum recession may be so advanced that you are able to see a distinct colour difference between the enamel and root surfaces. To restore your smile without traditional surgery or sutures, schedule a consultation to see if you are a candidate for the Chao Pinhole Surgical Technique (PST™) right here in Oakville at Bronte Village Dental!
The Chao Pinhole Surgical Technique Vs. Gum Recession Surgery With Gum Grafts
With gum grafting surgery, tissue is collected from the palate and then transferred to the site of your gum recession. This process requires two surgical sites, at minimum, and will limit the amount of teeth that may be treated in one visit. This is not the case with the Chao Pinhole Surgical Technique, which does not require grafting tissue from one area to another.
Enjoy The Benefits Of Root Coverage
Addressing gum recession is critical, as its progression can eventually contribute to bone and tooth loss. In fact, gum grafting procedures can alleviate numerous aesthetic and functional concerns, such as:
Enhance the appearance of your smile
Reduce tooth sensitivity and gum inflammation
Restore the protective barrier that your gums provide for your teeth
Prevent premature tooth loss
Ready To Restore Your Smile To It's Natural Beauty?
At Bronte Village Dental we will work with you to create the smile of your dreams. We create personalized plans for our patients so they receive the results they are looking for. Call us today or request your appointment here!
Patient Testimonials
Amazing team at BVD. They helped me get my smile back. The doctor helped me to find an affordable solution that was right for me. These are caring people. Trustworthy, safe and non-judgemental. I absolutely recommend this place
Via Facebook
"We want to thank a wonderful dentist, Dr. Iskra Sarafov. It's great when the doctor combines vocation, talent and golden hands.In Bronte Village Dental Office, everything is at the highest level:doctor, assistants, administrator. Everything is done well, completely and comfortably.To the entire staff of the clinic - health and further successes.
Via Facebook
"At Bronte Village Dental, Dr Sarafov and her amazing team are there to make things right. Dr Sarafov has listened, built a plan for me and we are well on our way to a much larger smile. I have to say it's been fun because of the staff, painless because of the know how. I do not see it as an appointment, I look forward to going back as a visit. Many thanks"
Via Facebook
"The best dentist west of Toronto. Awesome facilities."
I'm extremely pleased with the outcome of my implant surgery. As a musician my concern was would i be able to continue playing my instruments?
I needed to have no concern as I have found that I am able to play pretty much the way I want.I'd like to thank Dr Saratov and her team for an excellent job , well done and for giving me for the first time in my life, a full set of teeth.
I would recommend this procedure to anyone who is in a situation similar to mine; having very few of my teeth left
"To Dr. Iskra Sarafov and team
Thank you very much for everything that you done, they look great."
Dear Staff & Dr.
Happy Easter! Thank you for your hard work and long hours! Enjoy!